From David:
Hello fellow woodworkers! My goal is to provide, small, accessible classes to fellow woodworkers, and to have the opportunity to engage in an open dialogue about woodworking.
Class Location: Hands on group classes and private classes are taught in David's Workshop/Studio located in Santa Rosa, California, which is about 1 hour drive north of San Francisco.
Class Hours:   Classes typically run from 9:00 am to 6:00 pm with a hour break for lunch.
Class Questions: Please use our Contact Us form to ask about classes.
Registration/Payment: If you'd like to sign up for a class please use the Add to Cart button  next to the class description to make your 50% class deposit payment. If you wish to pay for all of the class in one payment, please change your quantity to "2" during checkout.
If you prefer to send in your 50% deposit payment via check, make the deposit amount payable to:  David J. Marks.
Mail the check to David J. Marks, 2128 Marsh Road, Santa Rosa, CA 95403
For payment via check include a note with the following info:
Your Name, Mailing Address, Cell Phone (with area code), Email address, Class Title, Class Date, Class Fee.
Cancellation and Refund Policy: If the student cancels we will refund the full deposit if the cancellation is received in writing (email is acceptable) four weeks prior to the class date. Later cancellations and "no shows" will not receive a refund. Full refunds will be given if we need to cancel a class.
Travel Information: Airport and hotel suggestions are available here. You might also wish to check our local weather, kindly provided by weather.com.
Group Classes: Each class will have 3 – 10 students and will be held in David's Workshop/Studio in Santa Rosa, California.
---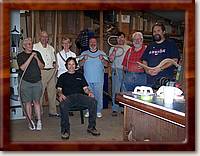 David's Photo Gallery
---